dubnový Nordic Activity Contest na 2m z Křečhoře (2014)
English summary is at the end of page (green).

Na tento závod jsem na kopec dorazil cca hodinu po začátku a dalších 20 minut jsem ještě montoval anténu, stavěl stožár a zapojoval pracoviště. Bylo úplné bezvětří, takže jsem anténu zvedl o rouru výš a kotvením jsem se nezdržoval. Navzdory "tuctové předpovědi" se mi podmínky šíření zdály nadprůměrné.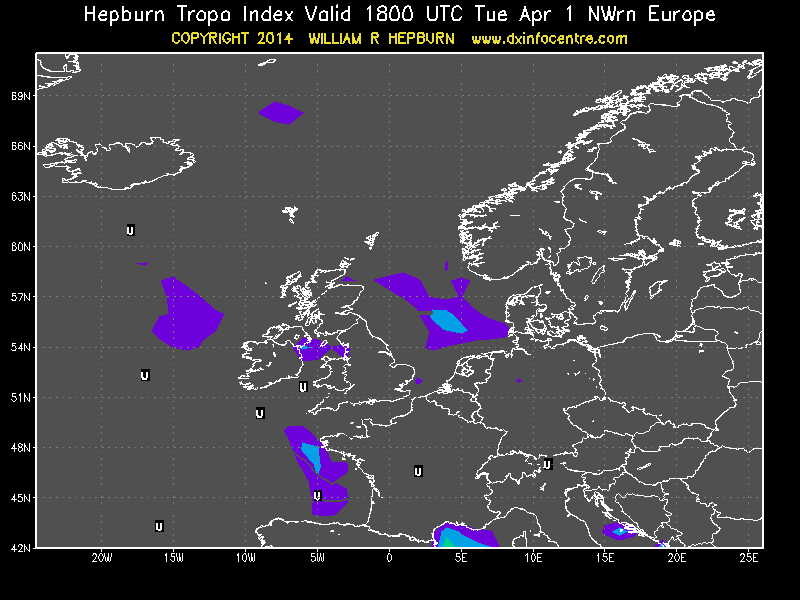 Přestože jsem měl jen 6 el. Yagi, udělal jsem o trochu lepší výsledek, než normálně dělám s 10 el. Yagi. Kromě obvyklých stanic se na CW povedlo spojení s SM7DTE (619 km). Nepodařilo se mi zaslechnout OZ1DLD/P (i jindy bývá dost na hraně) a na frekvenci OZ9KY jsem bohužel měl S3 zázněj.
Na Italy, které dělal OK1TEH, jsem nenarazil. Přesto vzhledem k "výbavě" 6 el. Yagi a 50W považuji výsledný průměr 377 km/QSO za velmi slušný výsledek. Foťák jsem zapomněl na nabíječce, takže fotky budou zase až příště.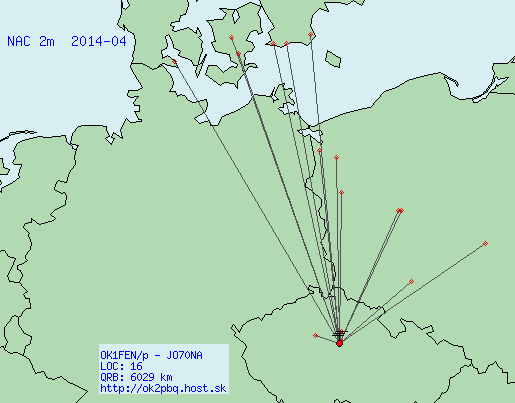 mapa spojení 2m

Zařízení:
FT 847, 50W
anténa: 6 el. Yagi (už skoro 20 let stará KRCka, mnohokrát rozlámaná a všelijak pospravovaná)
ASL 333 m. n m. + 7 m stožárek

English summary
In this contest I arrived at the hill 1 hour after begin. Next 20 minutes I have mounted the antenna, mast and interconnected all parts. It was no wind, so I picked up the antenna one pipe upper then usually. Despite "Hepburn's predictions" propagation conditions seemed above average. Although I had only 6 el. Yagi, I did a little bit better result than I normally do with 10 el. Yagi. Besides the usual stations I did CW QSO with SM7DTE (619 km). I did not listen OZ1DLD/p (he is usually on edge). On frequency of OZ9KY I unfortunately listen S3 peak. Station DL0VV I did tried repeatly call, but again without success. I had final average 377 km / QSO. This result I rate as very good with 6 el. Yagi and 50W (340 m ASL). I forgot my camera on charger, so photos will be next time.

Robert OK1FEN

závodění contesting

hlavní strana main page